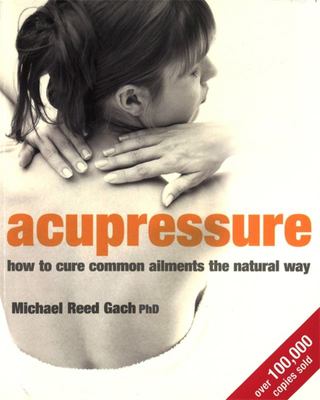 $51.95
AUD
Category: Acupressure
Acupressure is an ancient self-healing art which uses the fingers to press key points on the surface of the skin and stimulate the body's natural self-curative abilities. Safe and easy to learn, with no drug-induced side effects, acupressure gives you the potential to improve your health and increase yo ur vitality. ...Show more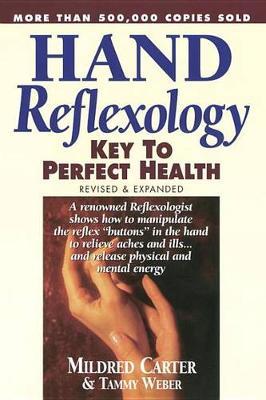 $33.50
AUD
Category: Reflexology
An introduction to hand reflexology reveals the keys to this ancient healing art and outlines the exercises that can ease pain from headaches, back pain, sciatica, ulcers, sinus problems, and other common ailments.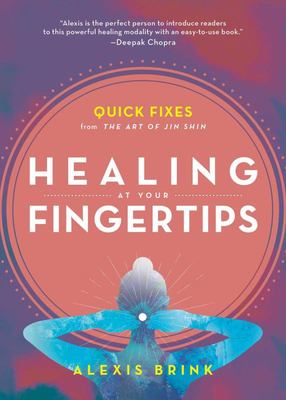 $29.95
AUD
Category: Forthcoming Titles
Improve your well-being instantly with this illustrated pocket-sized encyclopedia offering quick, holistic treatments to 80 different common ailments--including allergies, high blood pressure, depression, back pain, and more   The hectic pace of our busy lives often leads to common aches and pains th at can prevent us from living to the fullest. But it doesn't have to be that way Following the expert methods outlined in The Art of Jin Shin, Healing at Your Fingertips teaches you easy-to-implement steps to help alleviate pain.   The Art of Jin Shin is the ancient Japanese healing practice of gentle touching with the fingers and hands to redirect or unblock the flow of energy. By strategically placing your fingertips on different parts of the body, you can restore and harmonize blocked, stagnant energy that causes the majority of common symptoms--from anxiety, digestive issues, migraines, insomnia, and more   Featuring illustrations of 80 different holds, you'll be able to relieve your aches and pains instantly whether you're at work, at home, or on the go. ...Show more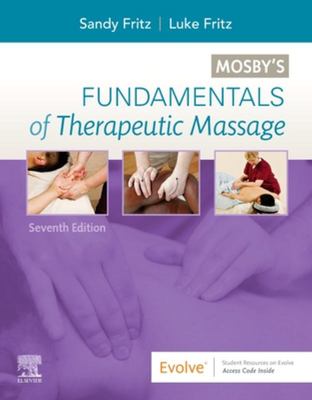 $130.00
AUD
Category: Massage
Expert author Sandy Fritz shares her years of experience and provides you with an authoritative resource on massage therapy.Comprehensive coverage of content included on the National Certification Exam (NCE) and the National Certification Exam for Therapeutic Massage and Bodywork (NCETMB) makes this boo k a perfect study tool.A combined workbook and textbook format encourages critical thinking with activities, short essays, fill-in-the-blank questions, drawing exercises, and more to help you review concepts from the book.Three appendices - Indications and Contraindications to Massage, Skin Pathology, and Common Medications and Possible Implications for Massage - provide valuable resources for reference and further study.General Protocol sections in the book, on the Evolve website, and on the companion DVD provide a guide for assessment and massage application, intervention and positioning recommendations, and a modifiable, step-by-step sequence to help you learn to develop care plans for specific clients.Insurance reimbursement section features discussions of insurance procedures, appropriate charting, necessary paperwork, and how to handle reimbursement.All-new photos enhance your understanding of concepts from the book.Expanded massage therapy career content addresses recent changes to massage therapy certification exams and discusses the many career tracks available.Expanded nutrition coverage helps you understand how nutrition, digestive function, and vitamins and minerals relate to massage outcomes.Updated and improved Body Mechanics chapter discusses the proper body mechanics you need to use to ensure a long and successful career and to provide more effective treatment.A section on pet massage includes basic massage and pain management techniques for common household pets.Additional learning activities, web links, National Certification Exam review questions, image collections, labeling exercises, crossword puzzles, and more on the updated Evolve website challenge you to practice and sharpen your skills. ...Show more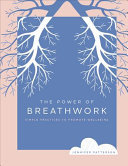 $19.95
AUD
Category: Breathwork
Drawing on a multitude of breathing practices from different healing and spiritual traditions, The Power of Breathwork includes 27 simple exercises that can be practiced alone or with a partner to enhance connection, creativity, joy, intuition, or to reduce depression, anxiety, trauma, tension, physical pain, and more. Knowing how to breathe and how to use your breath purposefully has been proven to reduce negative mental and physical issues and actually heal the body and mind. A regular home breathwork practice is an affordable and easy way for you to engage in self-healing practices that can have a profound impact on your overall health. Author, practitioner, and grief worker Jennifer Patterson begins by explaining what breathwork is, why you should try it, and how it can be used to heal the bodymind. Then, you'll learn what happens in your physical body, energetic body, and emotional body as you practice it. Before you start the exercises, find useful tips on building an altar, using scent, visualizations and grounding, and somatic writing prompts to help support your practice.   ...Show more
$125.00
AUD
Category: Body Therapies
Get a multi-dimensional understanding of musculoskeletal anatomy with Anatomy Trains: Myofascial Meridians for Manual Therapists and Movement Professionals, 4th Edition. This hugely successful, one-of-a-kind title continues to center on the application of anatomy trains across a variety of clinical asse ssment and treatment approaches - demonstrating how painful problems in one area of the body can be linked to a "silent area" away from the problem, and ultimately giving rise to new treatment strategies. This new fourth edition has been fully updated with the latest evidence-based research and includes new coverage of anatomy trains in motion using Pilates-evolved movement, anatomy trains in horses and dogs, and the updated fascial compendium on elements, properties, neurology, and origins of the fascial system. This new edition also features an enhanced eBook format included with purchase as well as new photos and images throughout both text versions. In all, this unique exploration of the role of fascial in healthy movement and postural distortion is an essential read for physical therapists, massage therapists, craniosacral therapists, yoga instructors, osteopathologists, manual therapists, athletic and personal trainers, dance instructors, chiropractors, acupuncturists, and any professional working in the field of movement. ...Show more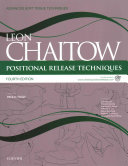 $84.95
AUD
Category: Body Therapies | Series: Advanced Soft Tissue Techniques Ser.
Positional Release Techniques continues to be the go-to resource for those who want to easily learn and confidently use this manual approach to safely manage pain and dysfunction in humans (and animals). As well as a structural revision, the fourth edition now includes new illustrations and chapters wit h videos and an image bank on a companion website to reinforce knowledge. At its core, the book explores the principles and modalities of the different forms of positional release techniques and their application which range from the original strain/counterstrain method to various applications in physical therapy, such as McKenzie's exercise protocols and kinesio-taping methods that 'unload' tissues. These methods are traced from their historical roots up to their current practice with a showcase of emerging research and evidence. In addition to a series of problem-solving clinical descriptions supported by photos of assessment and treatment methods, learning is further boosted by practical exercises which examine PRT methodology and the mechanics of their use.Emphasises safety and usefulness in both acute and chronic settingsComprehensive coverage of all methods of spontaneous release by positioningEasy to follow and extensively illustratedBalanced synopsis of concepts and clinical-approach models throughoutLearning supported by problem-solving clinical descriptions and practical exercises in the book as well as videos and downloadable images on the companion website - www.chaitowpositionalrelease.com Revised content structureNew chapters including: Strain/counterstrain researchPositional release and fasciaBalanced ligamentous tension techniquesVisceral positional release: the counterstrain modelRedrawn and new artworkCompanion website - www.chaitowpositionalrelease.com - containing videos that demonstrate application of PRTs and bank of downloadable images ...Show more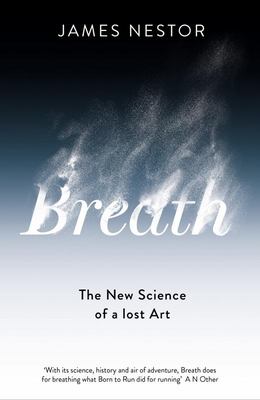 $35.00
AUD
Category: Breathwork
300,000 years ago, Homo sapienshad bigger skulls. Cooked food meant our heads shrunk; alongside a growing brain, our airways got narrower. Urbanisation then led us to breathe less deeply and less healthily. And so today more than 90% of us breathe incorrectly. So we might have been breathing all our lif e, but we need to learn how to breathe properly! In Breath, James Nestor meets cutting-edge scientists at Harvard and experiments on himself in labs at Stanford to see the impact of bad breathing. He revives the lost, and recently scientifically proven, wisdom of swim coaches, Indian mystics, stern-faced Russian cardiologists, Czechoslovakian Olympians and New Jersey choral conductors - the world's foremost 'pulmonauts' - to show how breathing in specific patterns can trigger our bodies to absorb more oxygen, and he explains the benefits for everyone that result, from staying healthy and warding off anxiety to improving focus and losing weight. Breathis a fascinating ride through evolution, medicine and physiology - and extreme sports. But mostly it explores you. Structured as a journey with chapters from the mouth and nose through to the lungs and nervous system, it is non-fiction at its breath-taking best. ...Show more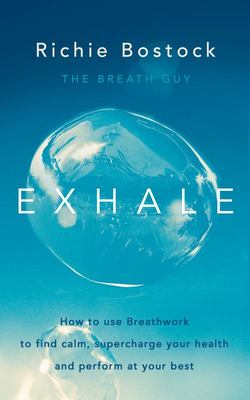 $27.95
AUD
Category: Breathwork
More energy, less stress, better sleep, happier lives. Isn't that what we all wish we had more of? Well, the solution is, quite literally, under your nose: your breath. From leading Breathwork practitioner, Richie Bostock, comes Exhale - a guide to learning the transformative power of breathing to help you lead a happier, healthier life. Exhale will help you master your physical, mental and emotional state in the comfort of your own home. Whether you're looking to reduce stress, improve creativity, tackle back pain or treat chronic ailments, conscious breathing has benefits for everyone. With over 40 exercises, experience the life-changing effects of Breathwork and cultivate your own breathing toolkit. With techniques inspired by traditional Sufi meditation and practices implemented by the Navy SEALS, Richie's Breathwork plan will help you find the solution to life's everyday challenges, in as little as ten minutes a day. Greater health and happiness is just a few breaths away. ...Show more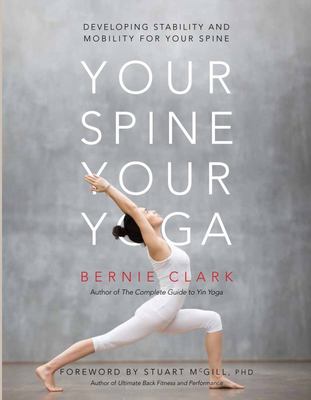 Your Spine Your Yoga
by Bernie Clark; Stuart McGill (Foreword by); Timothy McCall (Editor)
$39.95
AUD
Category: Hatha Yoga
Your Spine, Your Yoga is arguably the first book that looks at the spine from both the Western anatomical/biomechanical point of view and the modern yoga perspective. It is filled with detail, discussion, illustrations, and practical advice for spines of all types. This emphasis on variety is welcome an d necessary: no two spines are exactly alike, and no two people have the same biology and biography. What your spine is able to do may be vastly different from what other yoga students' or teachers' spines can do. The human spine is unique in its structure and function. Primarily, it provides stability through the core of our body, allowing forces to be transmitted from the upper body (arms and shoulders) to the lower body (pelvis and legs) and vice versa. Secondarily, the spine allows tremendous range of movement. Unfortunately, in modern yoga practice we find the primacy of these two functions reversed, with flexibility prized over stability. This focus on spinal mobility comes at a grave cost to many students. Stability is lost, and when that happens, dysfunction and pain often follow. Just as all tissues and areas of the body need a healthy amount of stress to regain and maintain optimal health, so too our spine needs the appropriate levels of stress to remain functional throughout our lives. How we choose to exercise the spine makes a difference, though. Knowing the way the spine is built, specifically, how your spine is built, will allow you to tailor your exercises wisely to match your goals. Your Spine, Your Yoga is the second book in the Your Body, Your Yoga series and focuses on the axial body―the core, from the sacral complex, which includes the pelvis, sacrum, and sacroiliac joint, through the lumbar and thoracic segments of the spine, to the cervical complex, which includes the neck and head. The structural components of each segment are examined: from the bones, to the joints, ligaments, fascia, tendons, muscles, and even the neurological and blood systems. The range and implications of human variations are presented, as well as the ways these variations may affect individual yoga practices. The sources of restrictions to movement are investigated through answering the question "What Stops Me?" The answers presented run through a spectrum, beginning with various types of tensile resistance to three kinds of compressive resistance. Whether the reader is a novice to yoga, anatomy, or both, or a seasoned practitioner with an in-depth knowledge in these fields, this book will be valuable. For the novice, there are easily understood illustrations and photographs, as well as sidebars highlighting the most important topics. For the anatomy geek, other sidebars focus on the complexity of the topic, with hundreds of references provided for further investigation. For the yoga teacher, sidebars suggest how to bring this knowledge into the classroom. Your Spine, Your Yoga can be used as a resource when specific questions arise, as a textbook to be studied in detail, or as a fascinating coffee-table book to be browsed at leisure for topics of current interest. ...Show more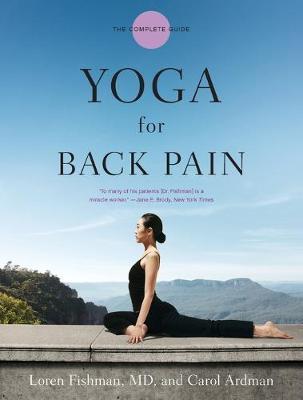 $41.95
AUD
Category: Hatha Yoga
"Stunningly innovative. . . . This is the first book in which the different causes of back pain are identified and assigned appropriate yoga poses. Individuals of any age, even those unfamiliar with yoga, will be able to follow Dr. Fishman's simple instructions."--Joan White, Iyengar Yoga National Assoc iation of the United StatesLet internationally renowned rehabilitation specialist Loren Fishman, MD, be your personal instructor for a healthier back With down-to-earth techniques and instruction for all levels, Cure Back Pain with Yoga helps you: - distinguish between the nine major causes of backache;- target your source of pain through diagnosis-specific yoga poses;- manage, reduce, and ultimately end your pain.Depending on the severity and chronicity of your pain, the postures in this guide, described in detail and illustrated by photographs, will help you determine how to start your own yoga practice or alter your existing practice in order to achieve lasting comfort and strength. ...Show more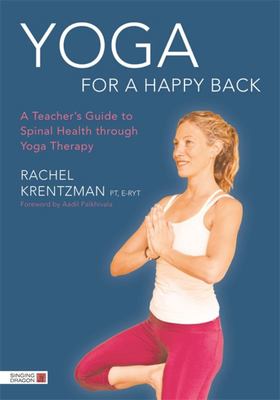 $49.95
AUD
Category: Hatha Yoga
This unique book offers a framework for using yoga therapeutically to heal back and spinal problems. Combining detailed instruction on evaluation and treatment techniques with personal narrative and case studies, Yoga for a Happy Back bridges the gap between practicing yoga for better physical health an d understanding the role of the mind-body connection in back pain.Utilising her vast experience as a physical therapist and yoga therapist, and the latest advances in the field, Krentzman advises on how to design therapeutic yoga classes for individuals with back pain. She includes information on creating class themes, and never before published sequences from the Purna yoga tradition for alignment based treatment of specific spinal conditions. With over 300 photos and illustrations, this book enables practitioners to access the benefits of yoga therapy for the treatment of orthopaedic dysfunctions and to promote general spinal health. ...Show more